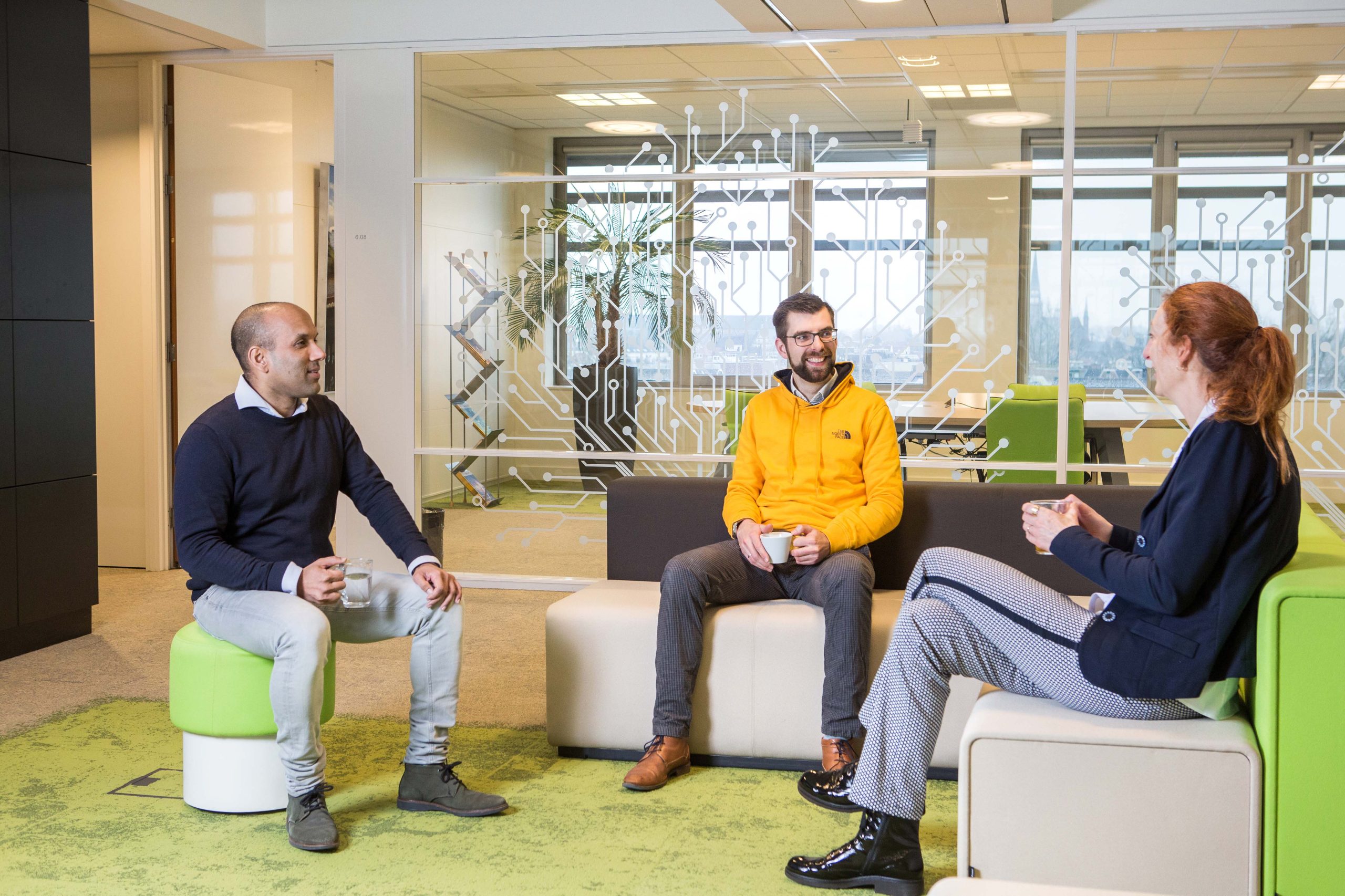 Multidisciplinary, cooperative, innovative
Technolution Advance is strong in technological innovation. This strength is the result of deliberate choices. Innovation arises when talented people from different disciplines and of different expertise meet and inspire each other. We are multidisciplinary: our engineers master software, electronics and programmable logic. And we are enhancing our innovative power by working together with leading partners in high-tech domains.
Innovative: embedded in the organization
Technology is a dynamic field. Technology that was only in its infancy yesterday can unleash a revolution today. This is why Research & Development are deeply embedded in our organization. Our Technology Office is constantly seeking ways to apply new technologies. We encourage our people to look proactively for interesting innovations and to share their insights with the rest of the organization. In addition, we invest in projects ourselves to explore the possible uses of new technologies and gain experience for our customers' projects. We are continuously expanding and renewing our knowledge and skills, and this means we are well-placed to support you with advanced technology.
Multidisciplinary: all the tools in our toolbox
Your technology challenges deserve the best solution. What solution this will be depends on many factors. We have a very wide range of tools in our toolbox, and we are able to combine these to propose the best approach. Clear agreements, mutual coordination and a good division of tasks and responsibilities are crucial to this. This is why we use Systems Engineering in our multidisciplinary development processes. In addition to thorough knowledge of technology, our engineers know a great deal about the physical processes and phenomena that influence technological systems, such as electromagnetism, heat generation and signal integrity.
Our engineers master all current programming languages and operating systems, as well as cloud platforms, virtualization and container technologies.
Our long experience with electronics development has allowed us to develop an efficient approach that involves continuous integration and automated testing methods. We do our own electronics assembly (for unitary products and small series).
Technolution is the Dutch market leader in the field of programmable logic and FPGAs (programmable chips). We are a co-founder of the RISC-V Foundation and have extensive libraries with algorithms that are ready for immediate use.
Cooperative: partnerships with high-tech partners
Together with our partners, we seek out the limits of what can be done. Exchange of technical and domain knowledge and mutual inspiration lead to surprising solutions that have strong added value. We prefer to work on the basis of co-creation. To give you a few examples of innovations that have come about in this way:
Space for new ideas
Are you looking for a partner to develop innovative high-tech solutions? Do you have an idea that you want to turn into a working prototype of product? Our engineers are happy to spar with you! Reach out to us for more information.
Our expertise
Let's talk about Multidisciplinary
and find out how we can help you