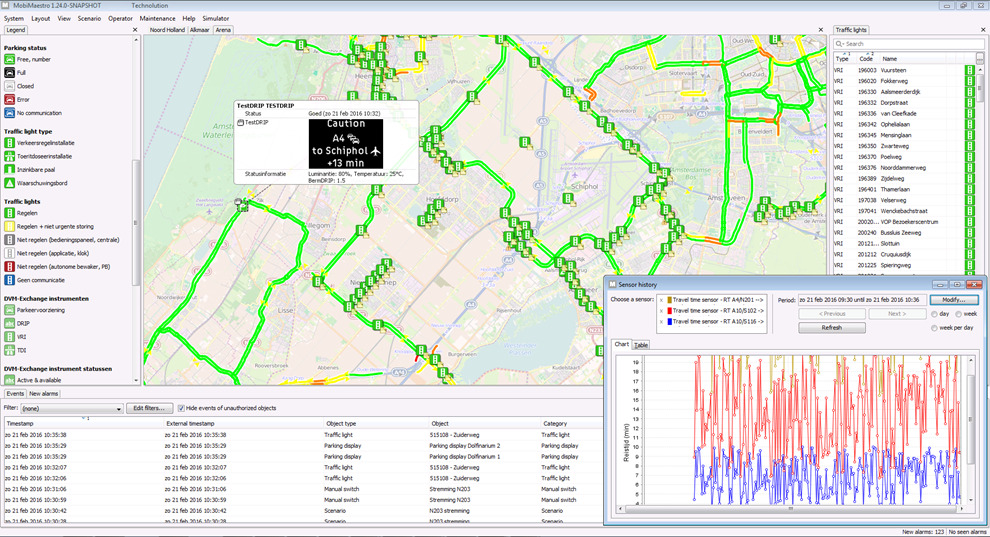 MobiMaestro-VINCE
Operate iTLCs and TLCs remotely and in a user-friendly way, supported by traffic engineering terminology. Use scenarios to effortlessly deploy library scenarios, for instance in case of maintenance works or incidents. VINCE helps you to ensure optimal flow for all modes of transport in your city or province.

MobiMaestro-PAGE
Use this all-in-one solution for parking guidance (PRIS) to determine the right access routes and to indicate current availability of parking locations on your displays. PAGE helps you to reduce traffic looking for parking spots in your city.

MobiMaestro-DISPLAY
All types of messages, displayed immediately on all kinds of displays and VMSs. Supported by open protocols like Disperanto. Also create dynamic route maps in your own templates. DISPLAY helps you to optimally inform all your road users.

MobiMaestro-SCOPE
Effortlessly combine and request camera images through scenarios and display them in a viewer or on a video wall. Operate the cameras using mouse, keyboard or joystick. You can also easily share your camera images. SCOPE helps you to get and provide insight into your control area.

MobiMaestro-NEMO
Organize network management through scenarios and the traffic control approach. Work together transparently to implement clear actions. Use your own or external information, like public transport or bridge data. Effortlessly share scenarios with other road manager through DVM-Exchange. NEMO allows you to combine all the information available to you.

MobiMaestro-SPIDER
From now on, receive all data flows in the same portal. Receive, transmit, control, enrich and distribute data intended for and coming from both internal and external users.

MobiMaestro-STATS
Data becomes information. Analyze and optimize your intersections and control scenarios. Refine your control strategy and optimize routes. If critical thresholds are exceeded, this is shown in clear reports.

MobiMaestro-PUBLISH
Share your data through the Open Data platform. Current data from parking locations, iTLCs or TLCs, TDIs, VMSs and bridges can be consulted on a simple web interface, using either our or your own app.

MobiMaestro-LIGHTING
Control and monitor your public street lighting. The module handles errors in public lighting and controls brightness settings. It works through various kinds of sensors in MobiMaestro.

MobiMaestro-BRIDGE
Are you seeking to integrate bridge management into your control scenarios? You can do this with the information provided via the BRIDGE module. The options include using current bridge openings, planned openings, and notifications to bridge operators.

MobiMaestro-PUBLIC TRANSPORT
The public transport module makes current and planned travel information about public transport available in your MobiMaestro system. Deploy multimodal travel information and even multimodal scenarios. In this way, relevant at-stop information can made available for up-to-date traffic management and for calculating and monitoring your relevant KPIs.

MobiMaestro-METEO
Give cyclists higher priority when the weather is bad or bad weather is on its way. Use meteorological information to organize traffic diversions or to influence fixed route choices during heavy rain.

MobiMaestro-SENSE
Link various kinds of sensors to MobiMaestro. Whether they work with a standard protocol, a generic protocol, or even a proprietary protocol, they can inject valuable information into MobiMaestro.

MobiMaestro-C-ITS
Use the C-ITS module to convey information from your traffic control center to road users' vehicles. Share information such as congestion warnings, lane recommendations, time-to-green at traffic lights and optimal travel times for freight traffic with your road users.
Related solutions and projects
Let's talk about MobiMaestro
And find out how we can help you