Smart energy consumption with storage: a pilot
Residents of the Breda neighborhood of Molenspie were the first in the Netherlands to have Tesla's Powerwall home battery for energy storage installed in their homes. Jouw Energiemoment (Your Energy Moment) 2.0 was extended by 35 home batteries to test their effectiveness in practice. In this pilot, grid operator Enexis studied the use of flexible rates and automatic energy storage with consumers. This can possibly prevent overload of the power grids.
Your Energy Moment
The first phase of Your Energy Moment showed that households are prepared to adapt their energy demand if they have the information and technology to support them in doing so. The Your Energy Moment 2.0 pilot tested whether and how flexible rates could contribute to this. The pilot used an innovative energy computer that controlled the heat pump and home battery to ensure that they consumed electricity in the most favorable way. For instance, at times when power is cheaper due to high supply, or, conversely, by using self-generated electricity. Residents themselves chose the best moments to run their washing machine and dishwasher on the basis of the rates. The pilot also provided insight for the grid operator into how the grid load could be kept in equilibrium, given the variable supply of solar and wind energy. The pilot started in January 2017 and lasted the whole year.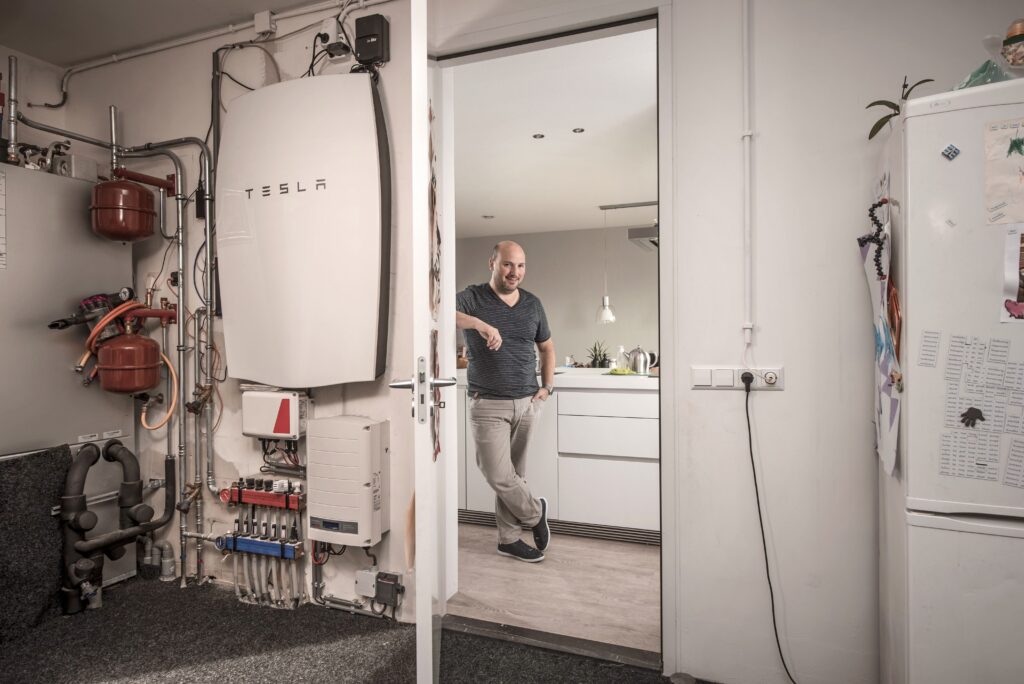 Home battery
Your Energy Moment 2.0 realizes and tests the smart operation of home batteries that is necessary to extract the optimal yield from a home battery. Tesla Powerwall home batteries have a capacity of 6.4 kWh, which is sufficient to store self-generated solar energy. The stored energy can then be used later to meet the power demand of the household in question. If the demand for electricity in a neighborhood becomes too high, the home battery can also be discharged to meet this demand.
The results of the pilot show that financial advantages are a relatively limited stimulus for consumers to become conscious consumers. In addition, they demonstrate that automated deployment of batteries can play a role in meeting peak demand for power. This is one of the innovations that can absorb future growth and changes in energy demand and supply without requiring a reinforcement of the grid.
Partners
The project partners involved in Your Energy Moment 2.0 are working on concrete solutions for the challenges posed by the energy transition. The partners concerned are grid operator Enexis, energy service provider Fudura, aggregator Senfal, technology developer Technolution, user interaction expert Shifft, and knowledge institution TNO.
Would you like more information about innovation for your energy facilities?