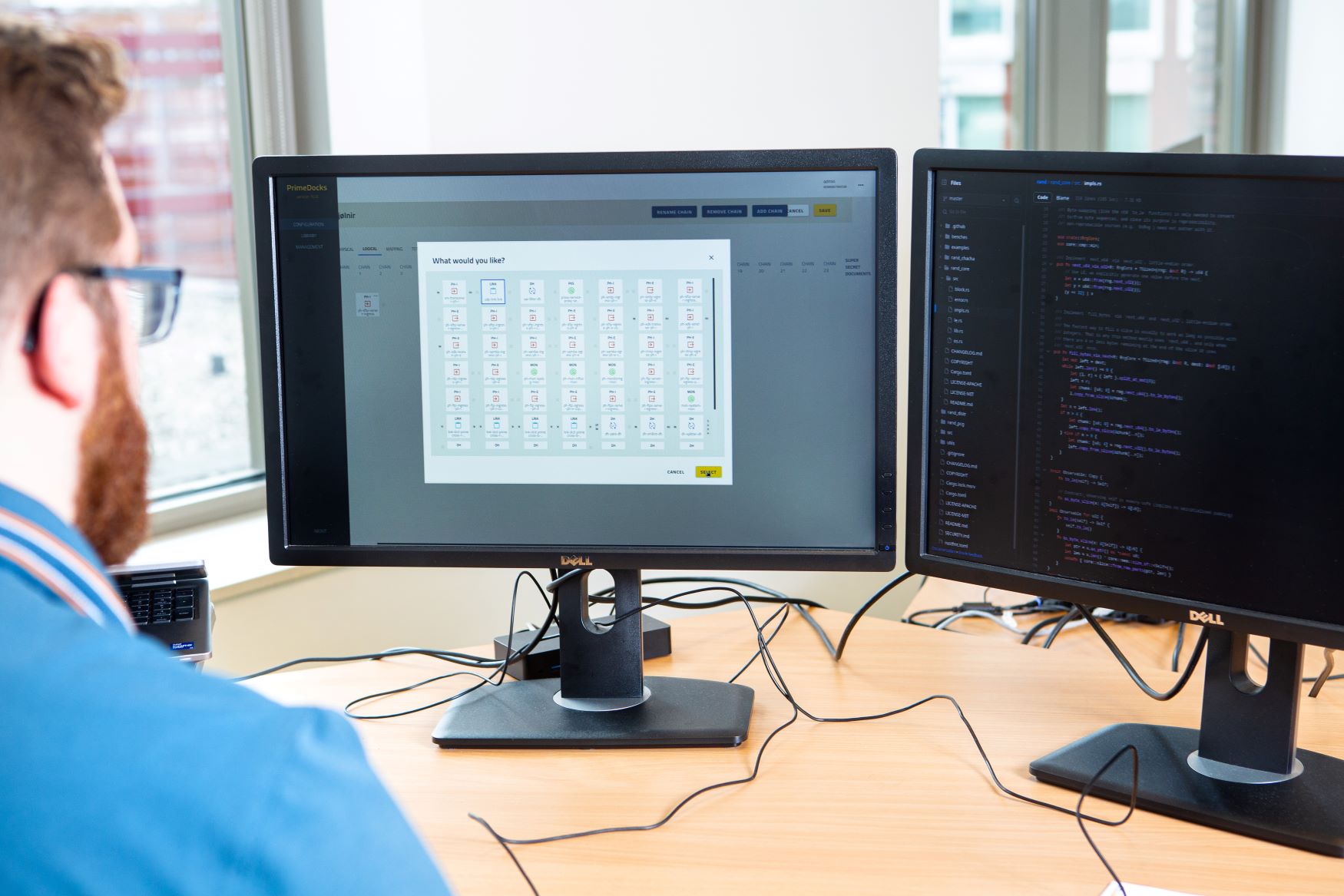 PrimeDocks
platform for cross domain solutions
Domain separation with data diodes or data filters requires a thoughtful approach. After all, data traffic is limited or even entirely blocked in one direction. With PrimeDocks you can ensure that your applications and systems continue to function correctly. Within this platform, you can create and configure supporting proxy software to enable a complete and functional connection between two domains.
Scalable, cost-efficient, and user-friendly
PrimeDocks offers you a new way to facilitate domain separation. Domain separation with data diodes and/or data filters is typically expensive and complex. The cross domain communication must be reconfigured for each domain transition, which requires a lot of knowledge and efforts from experts involved. Management can easily present a huge challenge; particularly when the number of domain transition increases. PrimeDocks is a cost-efficient and scalable platform for user-friendly cross domain solutions.
Software proxies: protocol handlers and data handlers
With PrimeDocks you can create and configure a 'bead chain' of applications – software proxies – to either sides of a data diode or data filter. These software proxies fulfill different tasks:
Protocol handlers
applications and protocols typically require data transport in two directions; for instance FTP or email. With protocol handlers, you facilitate the correct functioning of these applications and protocols through a data diode or filter. Important tasks such as emailing, file transfer and software updates continue to function through a unidirectional connection.
Data handlers
there is often a need for additional functionality in data transport through a data diode or filter; for example a virus scan, data conversion or validation. These tasks are executed by data handlers. PrimeDocks gives you maximum flexibility for creating and configuring data handlers. This will allow you to automate the steps that data has to go through in domain transitions.
PrimeDocks offers many possibilities for designing the domain transition. Would you like to create a small scale domain transition with only a few protocol and data handlers ('beads in the chain')? Or would you prefer to construct multiple chains along side each other with many different handlers? With PrimeDocks you possess an innovative way to configure and manage chains. Ease of use is the main focus point.

Multi-functional data chain
With PrimeDocks, you create a chain of protocol handlers as well as data handlers. You can decide the design of this multi-functional 'bead chain' for yourself. What makes PrimeDocks unique is that you can even configure multiple parallel chains for the same domain transition. This allows you to define even the most complex connections, for example: a domain transition with one configuration consisting of multiple diodes, which you can use to import data from various domains.
A number of handlers is readily available, such as email, FTP, SNTP and virus scanners. In addition, you can simply develop handlers yourself using the enclosed Software Development Kit. This way you can stay in control of the data in your domain, even in case of domain separations with very specific functionalities.
Statistics and monitoring
Proper logging is essential when using data diodes or data filters. The receipt of data often cannot be verified, after all. PrimeDocks offers insight into all connected domain transitions in one location and provides different statistics to monitor your software proxies. For example, you can combine the statistics of incoming and outgoing proxies into one stream of outgoing logging information. This enables you to keep the best possible overview and control on the functioning of the 'bead chain'.

PrimeDocks offers, among other things, the following data:
Status of platforms and processing of messages in the chain;
Number of data packages scanned and dropped by a data handlers (e.g. a virus scanner);
Monitoring and logging on the level of individual data handlers;
The ability to oversee and manage many domain transitions in one location;
Flexibility in configurations
With the PrimeDocks platform, you have great flexibility when it comes to the configuration of your proxies. For example, PrimeDocks makes it possible to combine or separate data streams. You can also parallel implement multiple chains of handlers ('bead chains') for the same domain transition. You can simply reuse previously created chain beads in other domain transitions. In addition, you can use proxies, diodes and filters linked together in different combinations. In conclusion: PrimeDocks offers you unprecedented freedom of choice without having to make concessions in terms of security and manageability.
Future-proof
The PrimeDocks platform is the foundation of all your solutions for domain separation. It works perfectly with the PrimeDiode 3010, the new generation PrimeDiode 5001 and 5010, or the hardware data filter PrimeCross (still in design stage). Would you like to treat data differently? PrimeDocks offers you maximum flexibility and scalability. Easily place new software or hardware 'beads' in the chain. Whether it is a diode, a data filter like the PrimeCross, or dozens of parallel, complex proxy chains,
with PrimeDocks you are in control of your domain separations and are ready for the future.
Related products
Let's talk about your cross domain challenge
and find out how we can help you